11 Pastry Recipes With Honey
Having friends over for tea? Preparing for a visit from your in-laws? Love baking? There is no wrong reason to bake your favorite pastry recipes!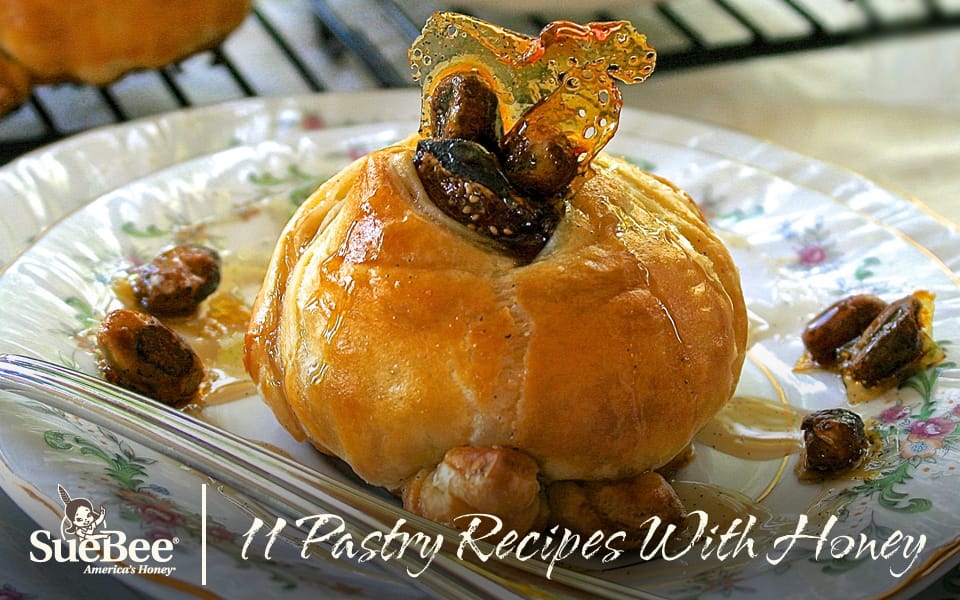 We've compiled 11 of our favorite pastry recipes with honey that you need to try! We'll start things off with Kelly Williams' Honey-Roasted Balsamic-Vanilla Bean Fresh Fig Pastry Roses with Brie & Caramelized Honey-Pistachios (pictured above), which was a runner up entry in the Sue Bee® Honey Sweet Eats Recipe Contest!
Not only are these Honeyed Pears in Puff Pastry from Taste of Home cute, they're also delicious!
Those with sophisticated tastebuds will love these Apple, Goat Cheese, and Honey Tartlets from Bon Appétit.
Who can resist the delicious combination of apples and honey? Try these Apple & Honey Tarts from Busy in Brooklyn for a simple recipe that is sure to please.
Dessert First Girl's recipe for Baklava is tasty and elegant!
No one can resist a warm, fresh sopapilla, right?! Try these Homemade Sopapilla's from Picky Palate.
The Law Student's Wife has a tasty recipe for Cranberry Baked Brie Puff Pastry Bites that is perfect for your next get-together with friends.
Use old leftovers to make this yummy Ham and Cheese Puff Pastry Bake from Wonky Wonderful.
Another one for those with sophisticated tastebuds … Beet, Goat Cheese and Honey Drizzled Tarts from How Sweet Eats!
These Blackberry Scones with Honey Butter Glaze from Jam Hands are great to enjoy with friends over a cup of tea.
Finally, MyGreekDish.com has an awesome recipe for Diples (Greek Christmas Pastries with Honey) that your friends and family will love!
What'd we miss? Share you favorite pastry recipes with us on Facebook, Twitter and Pinterest!