10 Pancake Recipes With Honey
Pancakes are the perfect breakfast food because there are so many different kinds to make. From sweet and fruity to rich and peanut buttery, you can really get creative. In celebration of IHOP's National Pancake Day, try your hand at making any one of these pancake recipes made with honey from Sue Bee®, and let us know which is your favorite!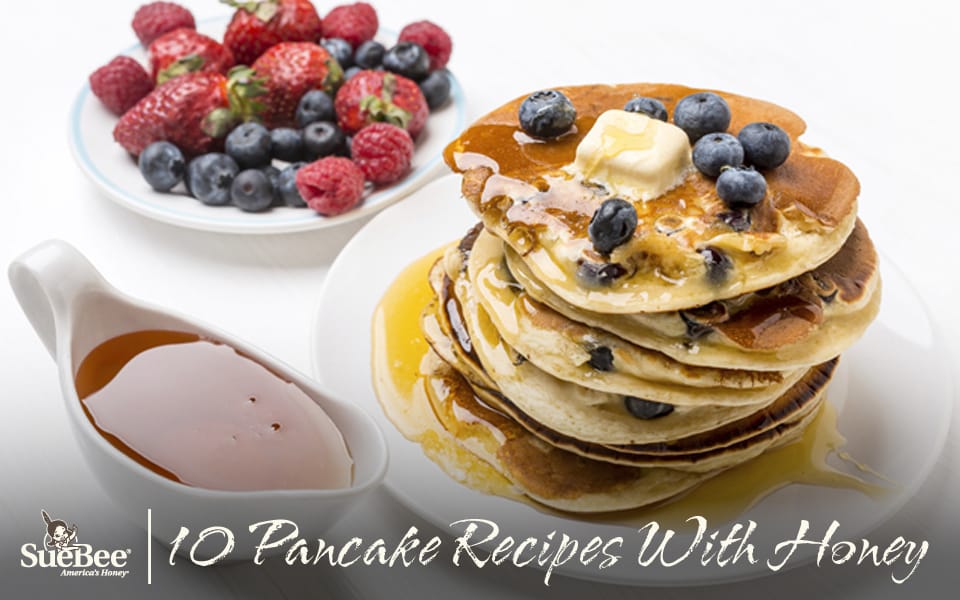 Feeling fruity? You can never go wrong with a classic stack of Honey Blueberry Pancakes.
Try adding bananas with this recipe from Sue Bee® honey for a great start to your day: Banana Pancakes.
Strawberries also add a flavorful touch to your breakfast. This Berry Nice Honey Pecan Pancake recipe mixes strawberries, cinnamon and raspberry preserves to liven your breakfast.
This recipe provides instructions on how to make pancakes with a Blood Orange Honey Sauce that is sure to make your mouth water.
Not really in the mood for fruit? Make a stack of these Peanut Butter Pancakes for a little extra protein to boost your energy.
A little chocolate never hurt anyone, right? Have a taste of these Chocolate Chip Pancakes from Sue Bee® honey.
For a completely different spin on pancakes, this Lemon Poppy Seed Pancake recipe gives you a light, refreshing breakfast to start your day off right.
Another creative recipe to try is the Moroccan Honeycomb Pancake recipe from Sue Bee® honey.
Tone it down a little with a small stack of Cinnamon Honey Pancakes.
Go all the way back to the basics with the simple Sue Bee® Honey Pancakes made with only four ingredients.
What did we miss? Share your favorites recipes with us on Facebook, Twitter and Pinterest!