10 Chocolate-Covered Recipes With Honey
Everything's better with chocolate! Get creative in the kitchen by whipping up one of these 10 delicious chocolate covered recipes with honey, such as our Sue Bee® Honey and Cream Cheese Chocolate Truffles (pictured below).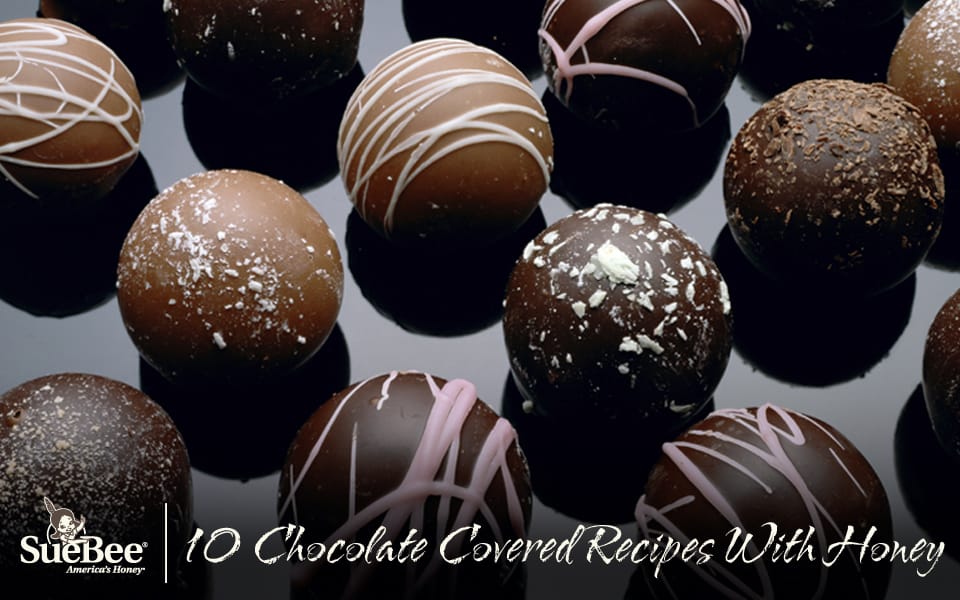 These Chocolate Covered Peanuts from Skinny Ms. are great during the holidays!
If you love peanut butter, try these Peanut Butter Balls from Detoxinista.
Skip the boxed-version and make your own Chocolate Covered Cherries using this recipe from Elana's Pantry.
Cookie dough lovers rejoice! This recipe for 6 Ingredient Chocolate Covered Cookie Dough Bites from The Fitchen is just what you've been looking for.
The Green Forks has an awesome recipe for Chocolate Covered Almond Butter Truffles that is packed full of delicious flavor.
Can't get enough Mounds bars? Try this do-it-yourself version for Chocolate Covered Coconut Bars from Art and the Kitchen.
Try these Chocolate Covered Coconut Stuffed Dates from Gourmande in The Kitchen if you're looking for something tasty and different.
Start planning for Valentine's Day with this recipe for Coconut Oil Chocolate Covered Strawberries from Free Coconut Recipes.
You can't go wrong with this awesome recipe for Chocolate-Covered Honeycomb Candy from Baking and Mistaking!
What'd we miss? Share you favorite chocolate-covered recipes featuring honey with us on Facebook, Twitter and Pinterest!