Honey Shrimp Stir-Fry
No need to order take out – this delicious Honey Shrimp Stir-Fry comes together in no time!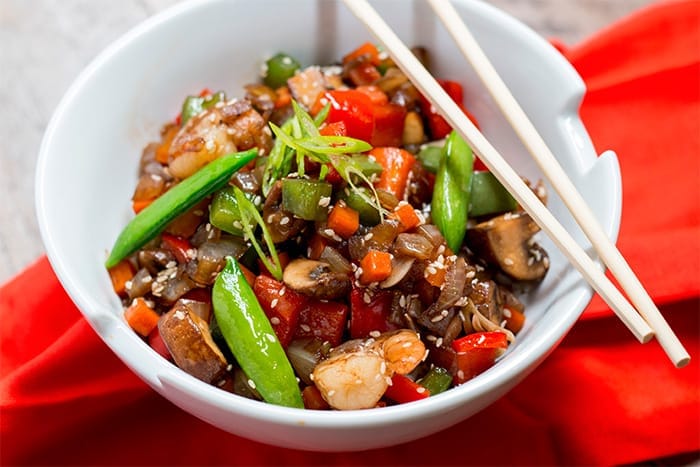 Ingredients
1 tbsp soy sauce
½ tbsp fish sauce
½ tbsp sesame seeds
1 tbsp cornstarch
1 tbsp Aunt Sue's® Raw & Unfiltered Honey
¼ cup chicken stock
4 cups prepared white rice
1 each red, green, and yellow bell pepper, chopped
1 onion, chopped
1 cup button mushrooms, chopped
1 carrot, chopped
½ zucchini, chopped
½ cup sugar snap peas
¼-lb peeled, deveined shrimp
2 cloves garlic, finely minced
1 tbsp canola oil
chopped scallion, to garnish
Directions
Whisk together soy sauce, fish sauce, sesame seeds, cornstarch, honey, and chicken stock. Set aside.
Heat canola oil in a large skillet over medium high heat.
Add chopped peppers, onion, mushrooms, carrot, and zucchini to skillet and sauté for about five minutes, or until vegetables have began to soften and take on color.
Using tongs or a spatula, push vegetables to the sides of the skillet.
Add shrimp to the center and sauté till pink and translucent, about three minutes.
Add garlic to the skillet, and cook for about a minute.
Add soy sauce honey mixture and sugar snap peas.
Cook for another two minutes.
Serve over steamed rice, topped with chopped scallion.