Honey Lemon Cookies
These Honey Lemon Cookies are full of honey, lemon-y goodness, and they're so easy to make. With the chewy texture, the tart flavor and the powdered sugar coating, these cookies are absolutely irresistible!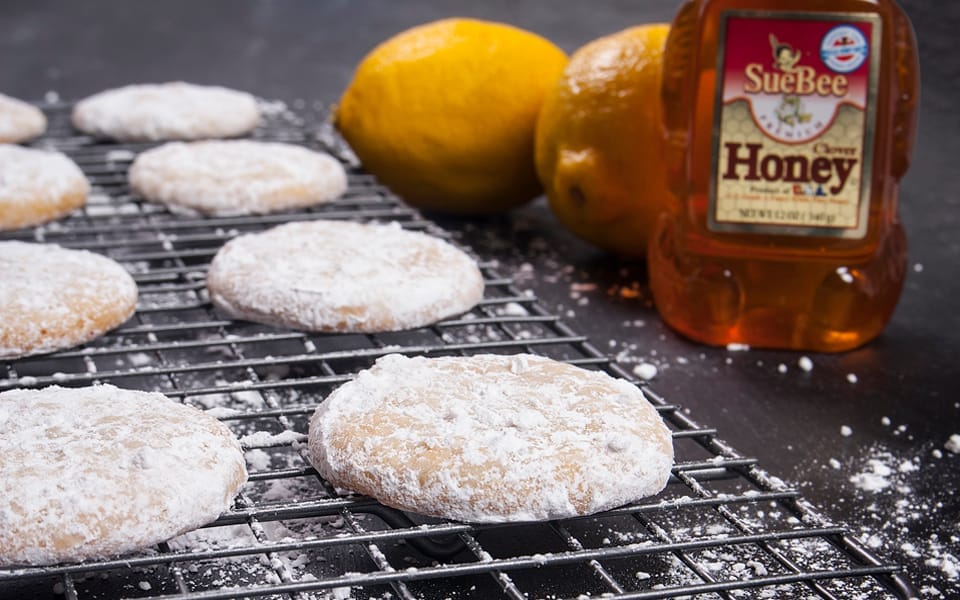 Ingredients
1/4 cup Sue Bee® Honey
1/2 cup butter (1 stick)
2/3 cup sugar
zest from 2 lemons
1 3/4 cups all-purpose flour
pinch of salt
2 tsp lemon juice
1 tsp baking soda
1 cup powdered sugar, for coating baked cookies
Directions
Preheat the oven to 325 F.
In the bowl of an electric mixer with the paddle attachment, cream together the butter, sugar, honey and lemon zest. Scrape sides of bowl as necessary.
Turn off mixer and add flour and salt.
In a small bowl, stir together the lemon juice and baking soda (get ready for the fizz).
Add the lemon juice and baking soda mixture to the rest of the ingredients; mix on low just until blended. Use a spatula to scrape down the sides and bottom of mixing bowl, then mix dough by hand to ensure that all ingredients are well incorporated.
Shape dough into 1-inch balls and place on parchment lined baking sheets. Place cookie sheet on middle rack of the oven; bake for 10-15 minutes, just until the cookies are slightly brown on the edges.
Remove cookies from oven and allow them to cool for a few minutes on the cookie sheet. Toss lightly in powdered sugar and place on cooling rack to finish the cooling process.
Serve any time and enjoy!