Honey Garlic Carrots and Asparagus
This perfect spring side dish is quick, easy and loaded with flavor!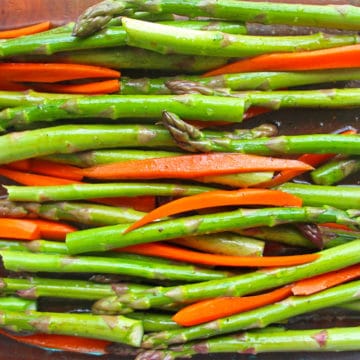 Ingredients
1/2 lb asparagus
3 carrots, peeled and cut
2 large cloves garlic, chopped
1/2 small red onion
1/8 cup Aunt Sue's® Raw & Unfiltered Honey
Salt and pepper to taste
Directions
Preheat oven to 400 degrees F.
Spray baking sheet or line with parchment paper.
Thinly, slice the red onion.
Cut the tough ends off the asparagus.
Peel and cut the carrots (either julienne or in one-inch chunks).
In large bowl, place vegetables. Drizzle with honey, season with garlic and salt and pepper.
Spread all ingredients out and place the baking sheet in the oven for 15 minutes.
Allow the vegetables to slightly cool before serving.