Easy Fried Ice Cream Sundae
This is not your average ice cream sundae, but it's still just as easy. With only seven ingredients, most of which are already found in your kitchen, this dessert will satisfy any craving, any time.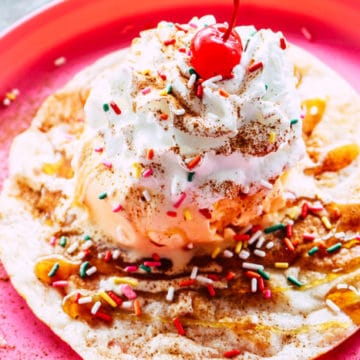 Ingredients
1 flour tortilla
1 tbsp canola oil
2 scoops vanilla ice cream
Aunt Sue's® Raw & Unfiltered Honey
Cinnamon powder
Whipped Cream
1 Maraschino Cherry
Directions
Add the oil into a frying pan and heat over medium heat.  Once the oil is heated, place the tortilla in the pan.
Once the tortilla begins to change color, flip it over and cook the other side.
When both sides are cooked, place the tortilla on a plate covered with paper towels to remove excess oil.
Put the fried tortilla on a clean plate and spoon two scoops of vanilla ice cream onto the middle of the tortilla.
Drizzle the tortilla and ice cream generously with honey.
Finally, dust with cinnamon powder, spray with whipped cream and add a dash of sprinkles.
Finish with a cherry on top and repeat as many times as you like!