Chicken Avocado Bacon Salad
This savory salad is a complete, filling meal that you can prep the night before and pull together quickly.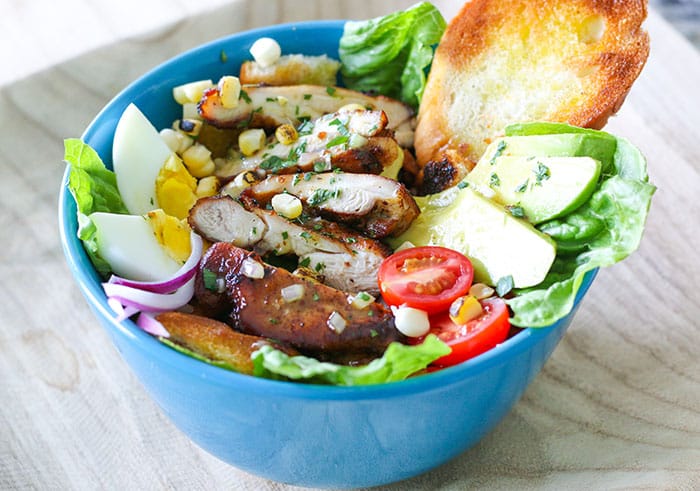 Ingredients
Marinade
1/4 cup Aunt Sue's Honey
3 tablespoons whole grain mustard
3 tablespoons olive oil
Salt and pepper to taste
2 skinless boneless chicken thighs
Salad
¼ cup diced bacon
6 cups Romaine lettuce leaves
1 cup halved cherry tomatoes
1 large avocado, sliced
¼ cup corn kernels
¼ cup red onion, julienned
Directions
Whisk together marinade ingredients to combine. Reserving a few tablespoons to use as dressing, pour marinade into a zip top bag with the chicken thighs. Refrigerate over night.
Fry bacon until crispy. Remove from pan, chop, and reserve.
Over medium high heat, cook chicken in rendered bacon fat till golden brown and crispy on both sides. Remove from pan, and allow to rest for five minutes. Slice, and reserve.
In a large bowl, add romaine lettuce, then the rest of the ingredients (including bacon and chicken) on top. Top with reserved dressing and serve.